Although you may be saving for retirement with an annuity, it is not a qualified retirement plan for tax purposes. You can't roll over the profits of a matured annuity to an individual retirement account unless it's currently held in another qualifying plan, such as a 401(k) or 403(b).
Annuities & Qualified Plans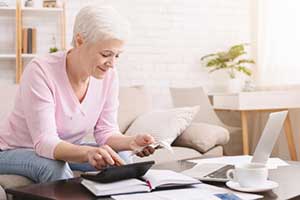 If you have the annuity in another eligible plan, such as a 401(k), 403(b), or even another IRA, you can roll it over to an IRA tax-free and penalty-free. The money in your IRA continues to grow tax-free until you take distributions. You can either take a distribution and redeposit the money into the IRA within 60 days, or you can execute a transfer, in which case the money is paid immediately into the IRA.
Annuities From Other Sources
Because other annuities aren't considered qualifying retirement plans, you can't roll the money into an IRA. Only two qualified retirement plans are eligible for a rollover. However, you may be able to make an annual IRA contribution with the money from the annuity payouts.
Annual IRA Contributions
Income from a matured annuity does not qualify as compensation for the purposes of IRA contributions. To be eligible to make an annual payment, you must have taxable alimony or income from working (such as salary, bonuses, or self-employment income). However, after you've been approved, the IRS doesn't care if the money you're putting in comes from annuity payments or salary. You can contribute up to $5,500 if you're under 50 and $6,500 if you're 50 or older as of 2013.
Penalty For Excess Contributions
The IRS imposes a 6% penalty if your IRA contributions exceed your yearly contribution limit, such as if you try to roll over the entire amount of your matured annuity on top of making your monthly contribution. And the penalty increases each year that you fail to fix the excess. If you remove the contributions beyond your yearly limit, including any earnings, before the tax filing deadline, you can avoid the excess contribution penalty. However, your earnings are taxable, and an early withdrawal penalty of 10% applies.