For individuals that want to supplement their retirement plan with a non-traditional retirement account, a life insurance retirement plan (LIRP) can be an ideal solution. Life insurance retirement plans allow retirees to be in control of how much they decide to contribute since there is no cap or limit on how much money can be put into an LIRP in a year.
You can augment your retirement income with this type of strategy, but there are some drawbacks to this method. Find out how an LIRP stacks up against a 401(k) and an IRA. You can use the cash value of your whole life insurance policy — or any other type of cash value life insurance — to augment your retirement income if you have one.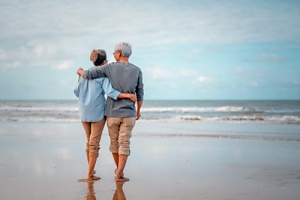 LIRPs are promoted by some insurance agents as a primary benefit of cash value life insurance. However, while cash value policies can provide flexibility and tax benefits in retirement financial planning, utilizing life insurance to support retirement savings carries hazards that all life insurance customers should be aware of, especially those nearing retirement. Read on to learn if using this strategy is optimal for your retirement planning goals and how it compares to a 401(k) or individual retirement account (IRA).
What is a Life Insurance Retirement Plan?
A life insurance retirement plan is a long-term life insurance policy with a cash value component that can be used to help pay for retirement. LIRPs are similar to Roth IRAs in that you don't pay taxes on withdrawals after the age of 59 ½, and capital gains are tax-deferred. However, LIRPs are different in that any withdrawals prior to age 59 ½ are tax-free. Any cash-valued permanent life insurance policy, such as whole life insurance or IUL, can help you save for retirement. Term life insurance has no cash value and so cannot be used to fund a life insurance retirement plan.
What is a Life Insurance Policy's Cash Value?
The cash value of your cash value life insurance policy is a tax-deferred, investment-like savings component that receives a portion of your premium payment. Your unique policy determines the amount that goes into savings, and the cash value account grows over time.
You can obtain the money by withdrawing from it or taking out a loan against it after you've held the cash value for a specific amount of time, and that money can be utilized to provide tax-free income in retirement.